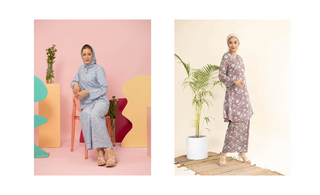 Muslimah Formal Attire: How to Look Professional and Beautiful in Baju Kurung
Welcome, fashion savvy Muslimahs! Are you looking to make a bold statement with your formal attire?
Look no further than the timeless elegance of the Baju Kurung! This iconic ensemble combines traditional charm with modern style, allowing you to exude professionalism and beauty effortlessly.
In this blog post, we will guide you on how to achieve the perfect formal look in a Baju Kurung. So, let's dive in and discover the secrets to looking stunning and confident for any occasion!
Choosing the Perfect Baju Kurung
When it comes to formal occasions, selecting the right baju kurung is essential. Opt for a baju kurung that is tailored to your body shape, highlighting your best features.
A well-fitted baju kurung not only enhances your silhouette but also ensures comfort throughout the event. Experiment with different sleeve lengths, necklines, and skirt types to discover your ideal fit.
Embrace the Elegance of Baju Kurung Formal
For formal events, these design styles often feature a more structured silhouette, utilizing high-quality fabrics such as satin or brocade.
Look for these sets that come with a matching skirt and blouse, creating a cohesive and sophisticated look. Integrate the class of the baju kurung formal and be the epitome of grace at your next event.
Incorporate Modern Touches
While baju kurung is steeped in tradition, you can add a modern twist to your ensemble to stay on-trend. It may also make sense to opt for baju kurung designs with contemporary details such as statement sleeves, asymmetrical cuts, or intricate embellishments.
These elements inject a touch of individuality and keep your look fresh and fashion-forward.
Explore the Charm of Baju Kurung Floral
Floral designs are an evergreen favourite that offer a feminine and sophisticated touch to any ensemble. When it comes to formal occasions, baju kurung floral designs are an excellent choice.
Choose delicate floral patterns in subdued or pastel shades for understated elegance or go bold with vibrant blooms for a statement-making look. Don't be hesitant to try on different flower designs to discover the one that appeals to your taste.
Accessorize with Finesse
No formal outfit is complete without the right accessories. Enhance the style with tasteful jewelry pieces that complement your look.
Pairing your outfit with minimalistic earrings, a delicate necklace, or a statement bracelet almost always adds a touch of sparkle.
A well-chosen clutch or handbag can also elevate your appearance and tie the entire outfit together.
Style your Hair and Makeup
To complete your polished look, pay attention to your hair and makeup. Opt for a hairstyle that suits your face shape and the neckline of your baju kurung.
Whether you prefer an elegant updo or flowing curls, make sure it enhances your overall appearance.
When it comes to cosmetics, strive for a natural and glowing appearance. Soft, neutral eye colours with a pop of colour on the lips will make you glow with confidence.
Colour Palette for Formal Baju Kurung
Choosing the right colour palette for your formal baju kurung is crucial to achieving a professional and beautiful look.
While traditional colours like black, white, and navy are timeless options, don't shy away from exploring other sophisticated hues.
Consider jewel tones like emerald-green, royal blue, or deep burgundy for a rich and regal feel. Soft pastels such as blush pink, lavender, or mint green can also add a feminine touch.
Experiment with different colour combinations to find the ones that best complement your skin tone and personal style.
Baju Kurung Styling for Work and Business Settings
The baju kurung is not only reserved for formal events but can also be a stylish choice for work and business settings.
To create a professional yet fashionable ensemble, opt for solid-coloured baju kurung sets in classic shades such as black, gray, or navy. Pair them with tailored blazers or cardigans for a polished look.
Avoid excessive embellishments and opt for modest designs that exude sophistication. Remember to keep accessories minimal and opt for closed-toe shoes or elegant heels to complete your work-appropriate attire.
Own it with Confidence
The most important accessory you can wear with your baju kurung is confidence! Regardless of the occasion, remember to carry yourself with poise and grace.
When you feel confident, your beauty shines through, and you become the center of attention. Walk tall, smile, and enjoy every moment in your baju kurung attire.
In a Nutshell
With tips on how to have a beautiful look in a baju kurung, it's time to unleash your style and make a statement at your next formal event.
Remember, the baju kurung is a versatile and timeless outfit that allows you to showcase your culture and personality while looking chic and sophisticated. Wear one and let your inner beauty shine!