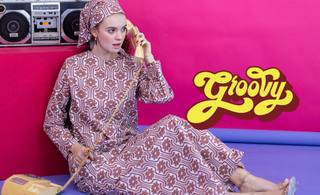 Modern vs Traditional Baju Kurung Styles: What Are the Differences?
People around the world prefer traditional attire for family functions or cultural festivals. Planning starts well in advance of the event, including choosing accessories to enhance one's appearance. 
Whether it's a modern or traditional dress, what matters most is that the person feels comfortable and has no complaints about it being too loose or too tight. 
During the Ramadan period in 2021, Baju Kurung was also listed among the top 3 sold items in the online Muslim fashion sale.
The term "Baju" refers to the straight-cut blouse, while "Kurung" denotes the skirt. This attire originated from the Malay Archipelago and was originally a loosely fitted, long dress that covered the entire body. It was typically made from fabrics such as cotton, batik, and silk.
Baju Kurung-Modern: Contemporary Designs for Various Occasions
In Malaysia, Baju Kurung is the traditional attire, while Baju Kurung-modern is a modernized version with contemporary designs suitable for various occasions. It combines a modern outlook with different patterns, shapes, and colors. 
Over time, it has transformed to keep up with modern fashion trends while still maintaining its cultural significance, commanding respect and dignity on all occasions, whether formal, casual, or official.
Evolution of Traditional Baju Kurung Design
The simple design of the traditional Baju Kurung has evolved, with designers exploring different models to adapt to the latest fashion trends. However, this doesn't mean that women no longer appreciate the traditional styles of Baju Kurung. 
Traditional Baju Kurung is designed for a comfortable fit that allows for ease of movement. With the modern touch that has been added to Baju Kurung over the centuries, women embrace its beauty, leading to its increasing popularity.
The younger generation tends to prefer the modernized version of Baju Kurung due to changes in its cut, texture, and use of textiles. The modernized attire features a tight-fitting, shorter skirt with ultra-modern designs and intricate lace patterns. 
Baju Kurung is available in silk, cotton, and chiffon fabrics, often featuring floral prints and flowy susun belakang skirts. These floral Baju Kurung sets look stunning and are perfect for traditional or Raya wear, adding a touch of femininity with floral lace details on the hem and sleeves.
One has to choose the perfect size for the shoulder, armhole, bust, sleeves, hip, and the length of the cloth, as well as the size to fit in, such as XS, S, M, L, XL, 2XL, 3XL, 4XL and so on.
Floral Baju Kurung sets are readily available for online and offline shopping, suiting one's choices for occasions like Umrah (pilgrim visit) or Nikah (wedding), or casual gathering.
The modern Baju Kurung comes with cut embroidery and various colors to choose from, including fawn beige, dark maroon, foggy grey, navy blue, amber yellow, pearly purple, scarlet red, rich black, and many more. 
Women can match these colors with their skin tone or personal preferences.
How can one pair modern attire?
Casual wear 
For a relaxing casual wear, one can opt for a cotton or linen Baju Kurung to provide absolute comfort. Flat slippers or sandals can complement the outfit for a relaxed mood.


Office wear 
A very simple and elegant design with neutral colors, paired with closed-toe shoes, can be suitable for modern Baju Kurung office wear.
Festive wear 
The modern floral Baju Kurung, made with high-end fabrics like silk or lace, would be appropriate for festive occasions. Pair it with high heels and exquisite jewelry sets for a glamorous look and feel.
In a Nutshell 
Even today, Baju Kurung remains a popular fashion statement among women, not only in Malaysia but also in other Southeast Asian countries. 
The modernized version has made the attire more appealing and versatile, catering to a larger audience. The modern attire also features floral, abstract, and geometric patterns, providing more creative and personalized styling options for women of all ages.