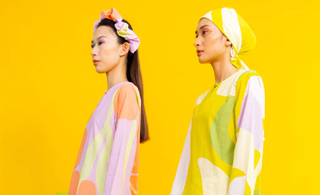 Latest Types of Baju Kurung Moden in 2023
Baju Kurung, a traditional Malay attire, has evolved over the years, blending tradition with modern fashion trends. In 2023, baju kurung is experiencing a renaissance with a variety of trendy styles, fabrics, and patterns.

Let's explore the latest types of Baju Kurung Moden that are making waves in the fashion scene.
Things to Know About Baju Kurung
Before we explore the latest styles, it's important to understand the significance of baju kurung. Originating during the golden era of the Malacca Sultanate, baju kurung has become a symbol of Malay culture and tradition.

It's not only the official attire in countries like Malaysia, Indonesia, Singapore, Brunei, and Thailand but also serves as a school uniform in Malaysia.

Traditionally, it was worn on formal occasions such as religious ceremonies and weddings. However, its comfort and elegance have made it a popular choice for daily wear, even to the office and casual outings.
Fabrics Used for Modern Baju Kurung
The choice of fabric plays a significant role in the comfort and appearance of baju kurung moden. Here are some popular fabric options:
Polyester
Polyester fabrics are favored for their wrinkle-resistant properties and flexibility. They maintain their shape and are often blended with other materials for added durability.
Cotton (Kapas)
Known for its comfort, breathability, and lightweight nature, cotton is a popular choice for baju kurung, particularly in Malaysia's hot and humid climate.
Silk (Sutera)
Silk is renowned for its luxurious, soft, and shiny texture. It offers a high level of comfort and is ideal for special occasions.
Rayon
Rayon is a synthetic textile made from cellulose fibers. It is known for its durability and is used in various clothing, including baju kurung.
Types of Baju Kurung Moden
In recent years, modern interpretations of the traditional baju kurung have gained popularity. These contemporary designs cater to various tastes and preferences.

Here are some of the latest types of Baju Kurung Moden in 2023:
Kurung Kedah Moden
While the traditional Kurung Kedah had a loose, unstructured design with three-quarter sleeves, the modern version adds elegance with a fitted bodice and longer sleeves. This design allows for a more modest and refined look, suitable for various occasions.
Kurung Pahang Moden
The modern Kurung Pahang is designed to create a slimming effect with its long and wide silhouette. This comfortable style is perfect for those who want freedom of movement without compromising on style. Unlike its traditional counterpart, modern Kurung Pahang often features printed patterns.
Kurung Moden Lace
This type of Baju Kurung Moden exudes elegance and exclusivity with lace embellishments that enhance the wearer's beauty. Lace can be incorporated into different parts of the attire, including the sleeves, neckline, hem, or even the entire dress. It adds a touch of sophistication to any occasion.
Kaftan Moden
The kaftan, originally a casual and flowy home attire, has been modernized into a baju kurung suitable for formal events. Kaftan Moden is known for its loose fit, comfort, and universally flattering design. It's typically made from soft fabrics like silk, satin, or chiffon.
Kurung Moden Pleated
The Pleated Baju Kurung Moden is a recent addition characterized by its use of pleated crepe fabric. It offers versatility with various designs, such as the princess-cut or straight-cut styles. Made from chiffon and silk, it's not only comfortable but also resistant to wrinkles.
Kurung Batik
Kurung Batik is a luxurious choice, made from handcrafted batik fabric, known for its intricate patterns and high-quality craftsmanship. While traditional batik requires manual labor, there are machine-printed versions available, offering a more affordable alternative.
Final Takeaways
Baju Kurung Moden is a testament to the rich fusion of tradition and contemporary fashion. From various designs to an array of fabrics, there's a baju kurung to suit every style and occasion.

It doesn't matter if you prefer the classic elegance of lace or the comfort of pleated designs, the latest collections cater to diverse preferences.

Shop for your Baju Kurung Moden at Bayu Somerset now, including our latest arrivals!