---
Contact us:
Estimated e-mail response time: 24hr
Email after 5.30pm on Saturday will be replied on the next Tuesday
Email: order.b[email protected]
OPERATION HOURS:
HQ : Tuesday – Saturday: 8.30am – 5.30pm
SETIA CITY MALL: Everyday : 10am - 10pm
---
How do I register for an account?
Click Sign up/Login and fill in your particulars. By creating an account with our store, you will be able to move through the checkout process faster, store multiple shipping addresses, view and track your orders in your account and more.
---
Local delivery (within Malaysia)
What is the cost for shipping within Malaysia?
RM9 shipping charge on all orders within Peninsular Malaysia and RM19 for Sabah & Sarawak. Tracking numbers are emailed once posted.
How long does it take for my parcel to reach me?
We post all orders made before 3PM, Tuesday - Saturday on the same day via NINJAVAN. NINJAVAN is a next day delivery service and makes deliveries from Monday – Saturday excluding local public holidays (Malaysia). Orders made on Saturday, after 3PM will only be shipped on Tuesday. You should receive your order within 2-3 business days after shipping. Tracking number will be sent via email. Sometimes the email may got into your junk folder. You can see the current status of your order once you key in the tracking number here: https://www.ninjavan.co/en-my/tracking
If customers do not receive their order within 5 working days, please contact us to track your order.
---
Product Care
Customers are advised to check on our washing instructions label attached on every cloth we send you.

Below are the general washing instructions for most of our offerings:

But consider pre-washing first. Shrinkage usually occur to natural fibers when you wash for the first time. We recommend prewashing in the same way you will wash your fabric in the future - including drying.

It is advisable to separate bright, dark and light colour clothes as some colours may run out in their first few washes.

WASHING INSTRUCTION

Cotton shrinks as a result of the tension given to its yarn and fabrics during the garment's construction. This is the reason why most cotton clothing will shrink during its first washing. How to not make it shrink? Wash them by hand or use to use cold water and set the washing machine to be on delicate cycle.

1. Hand wash
•Use cold or warm water to wash as hot water shrinks fabric
•Fill in the sink or basin with cold or warm water and add some gentle laundry soap such as baby soap
•Soak the cotton cloth in it
•Use gentle movements to swish the clothes through sudsy water
•Avoid scrubbing or twisting actions that could damage the fabric
•To rinse the clothes, drain the basin and then refill it with cold water
•Swish the clothes gently until soapy bubbles no longer come out of the clothes
•Remove the excess water, line dry the garments
•Lay the clothes drying rack but avoid direct sunlight and
•Avoid tumble dry/ dryer to prevent shrinking
2. Medium temperature iron
•Use low medium heat iron to avoid damages of fabric


MATERIALS

Cotton
•Wash cotton clothes in cold or warm water. Avoid hot water as it may shrink the cotton
•Set the setting to be gentle cycle and use gentle detergent
•Avoid using any harsh chemicals such as bleach
•Do not tumble dry
•Use medium heat iron to remove wrinkles


Satin

•Satin clothes should be washed by hand or on the delicate cycle of the washer
•Use cold water along with a gentle detergent like baby soap
•When hand-washing, let the item soak in sudsy water for 3-5 minutes
•Rinse thoroughly with cold water
•Do not scrub or twist as it will cause it to lose its shape
•Avoid using dryer. Instead, lay your satin on a clean surface or hand it on drying rack but avoid direct sunlight
•Satin clothes should be ironed on medium heat iron
---
How do I place an order?
Step 1: Click Sign up/Login and fill in your particulars If you are not an existing member, create an account at www.bayusomerset.com by clicking member icon between search and cart on the right. You can still purchase our item without creating an account but by creating an account you will enjoy points and able to get discount on your next purchase.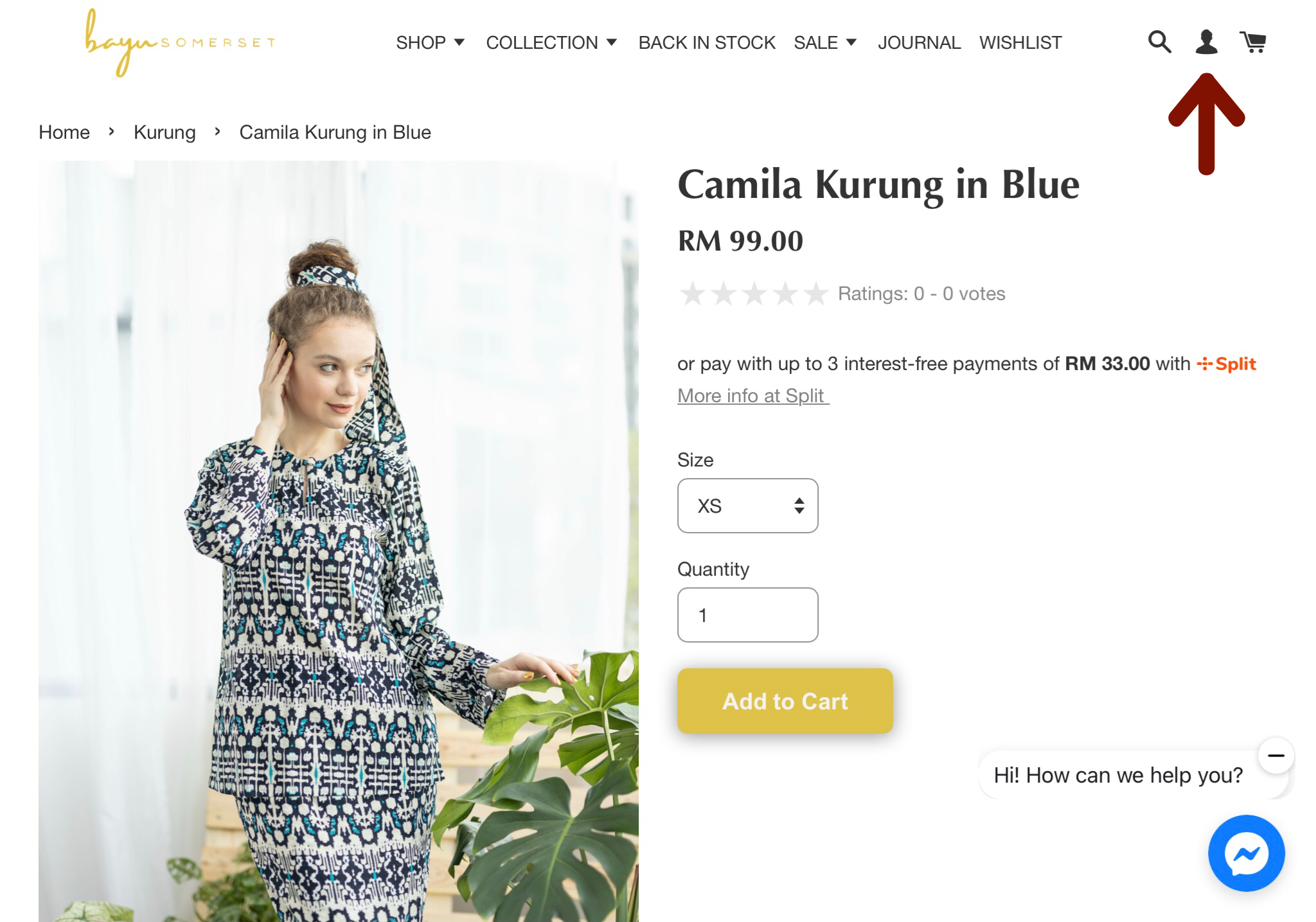 Step 2: Add items to your cart by clicking "add to cart" button and your cart will have the items that you would like to purchase.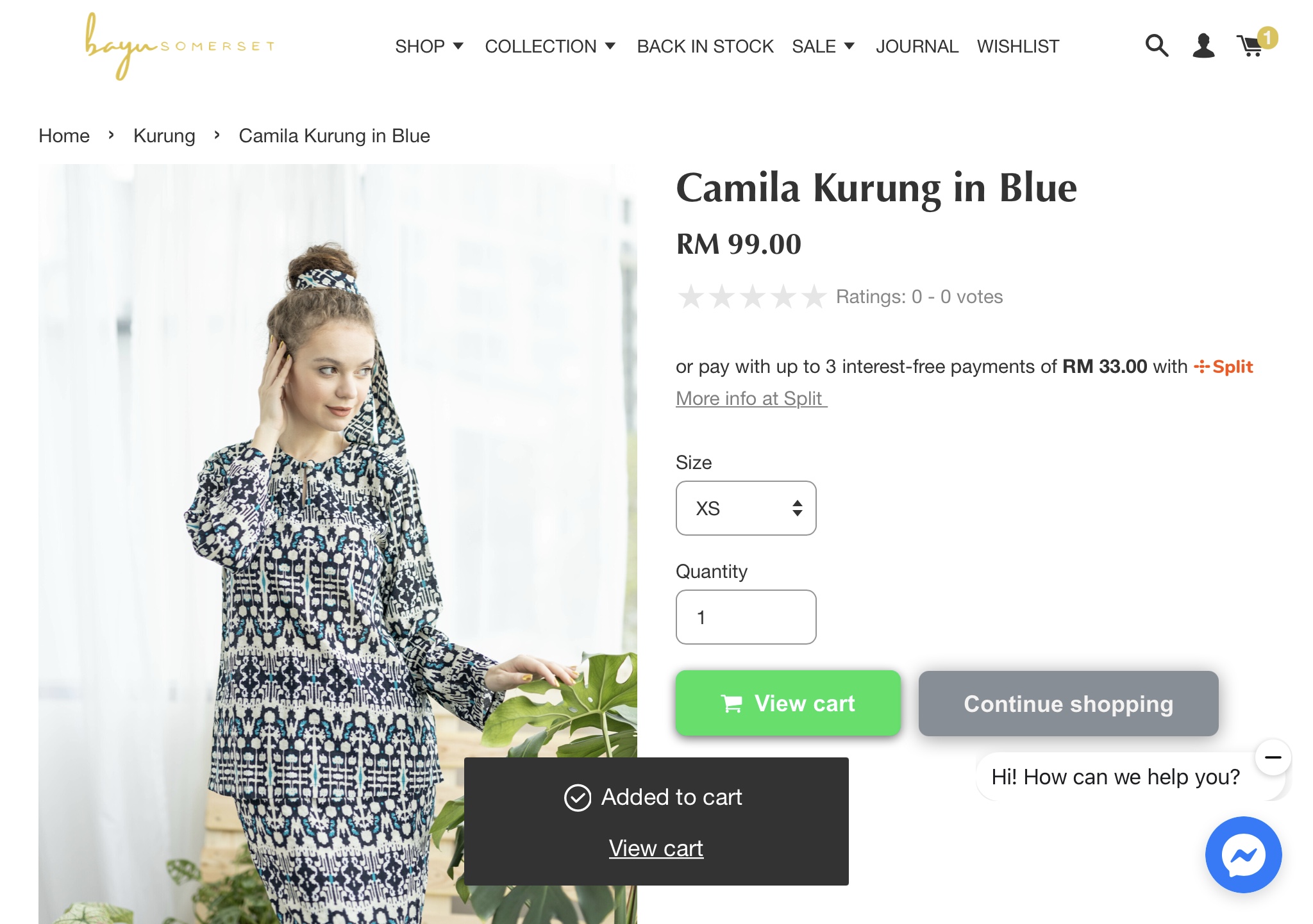 Step 3: This will lead you to your cart and you can also add your voucher code if you have one. After you confirm with your orders, you can proceed to check out for the payment.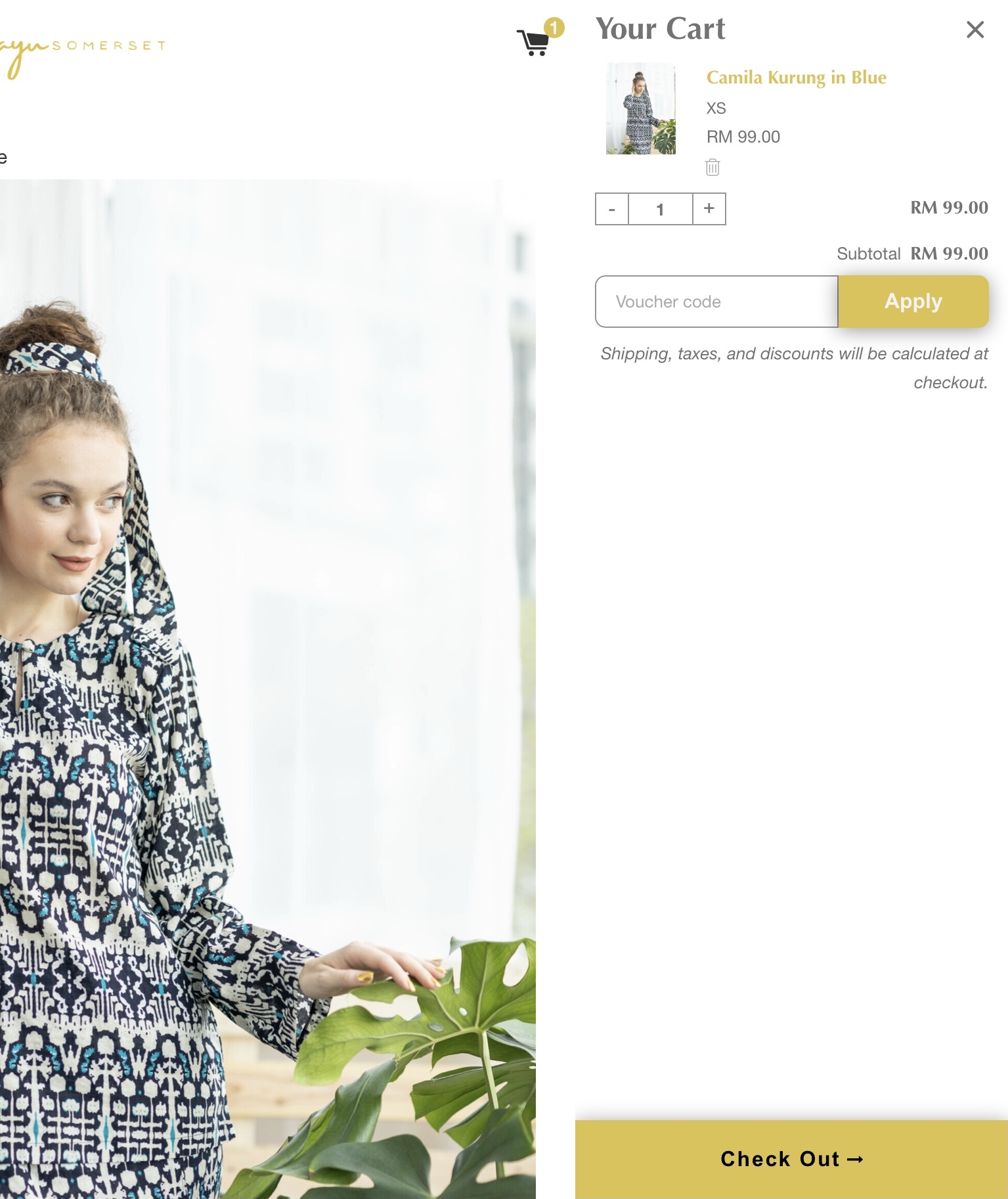 Step 4: On the right side are your summary of your purchase. Fill up the contact information and choose shipping or pickup option.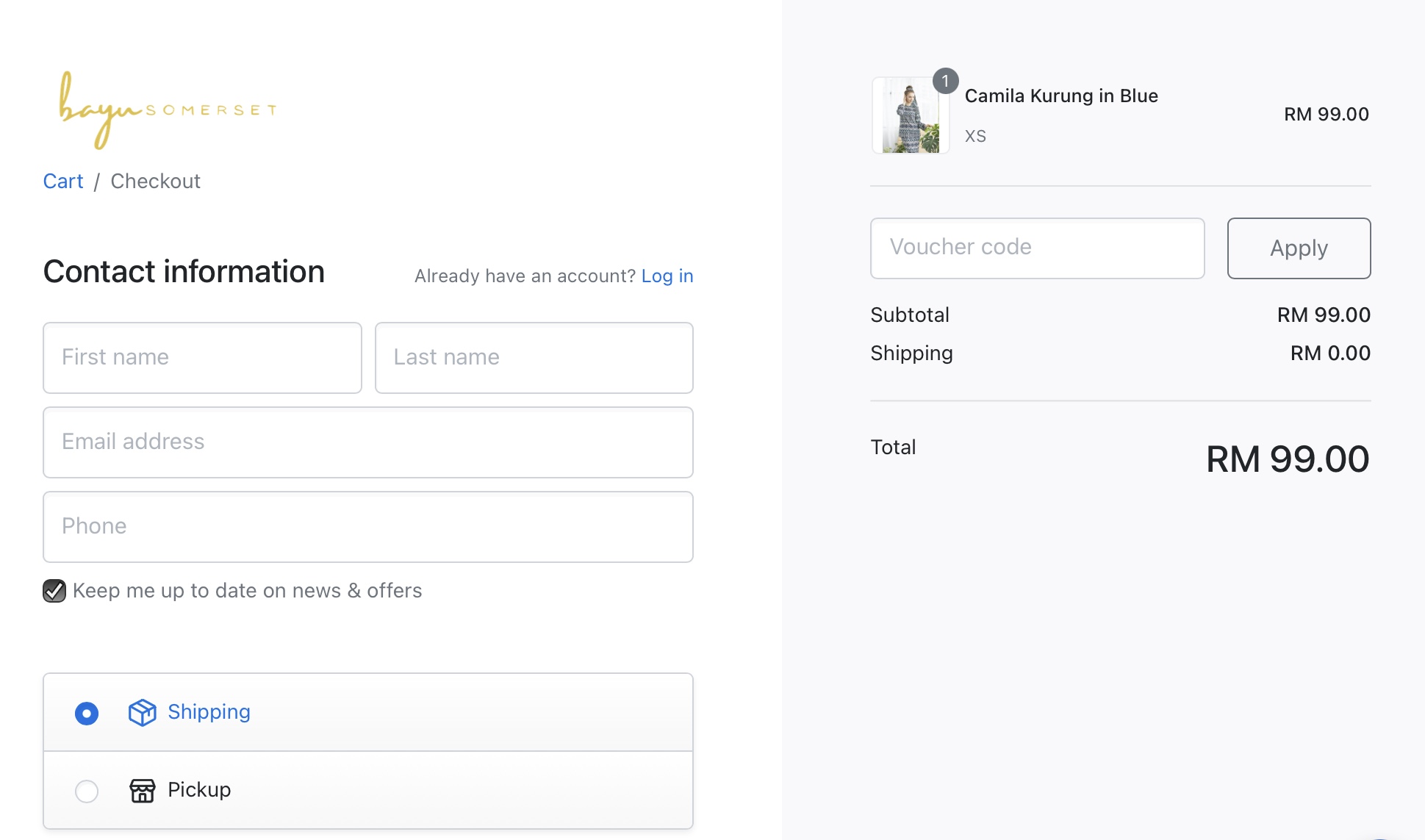 Step 5: Next, is to fill up your shipping address. Once the shipping address is confirmed, proceed to shipping method.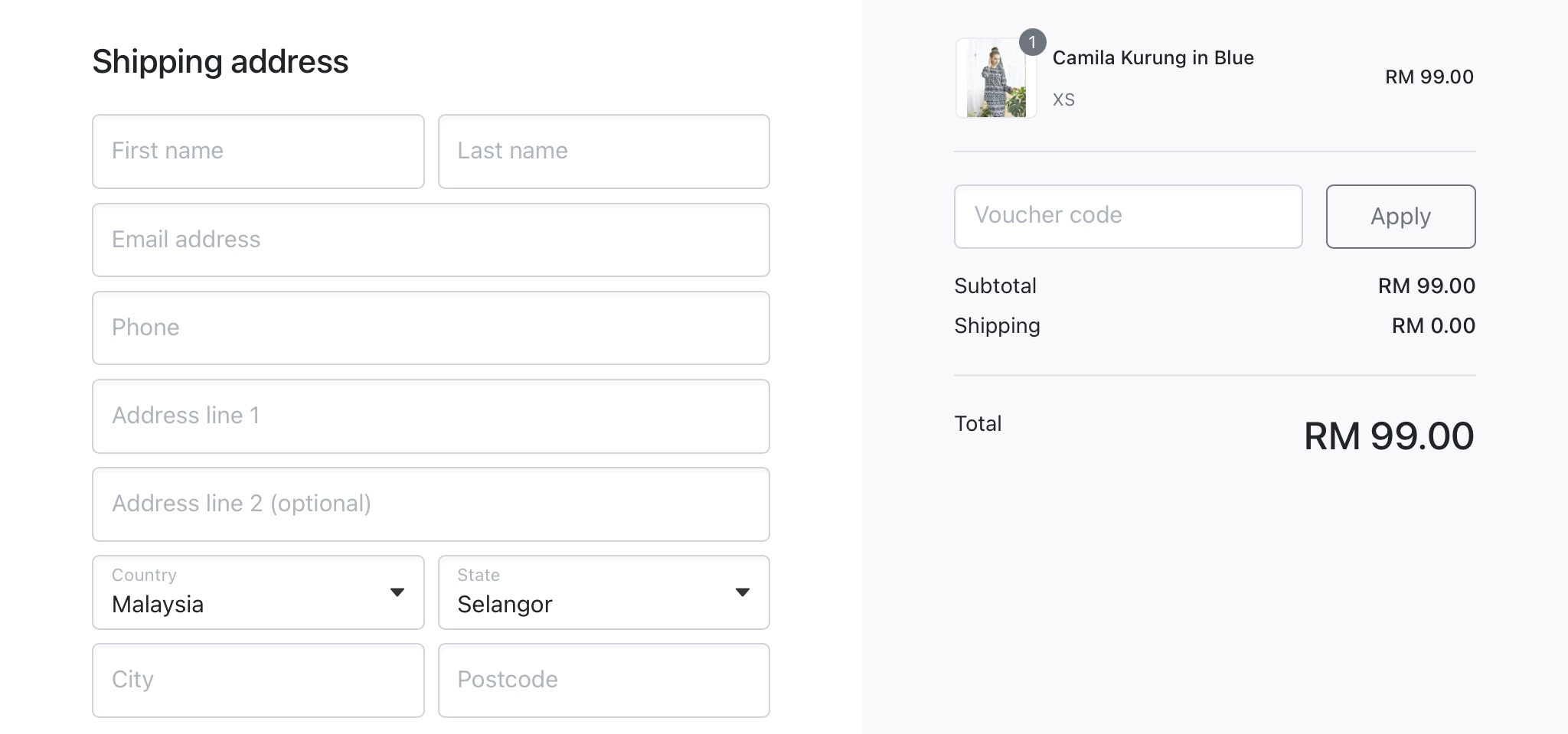 Step 6: You may select your preferred shipping method, either normal courier (i.e ABX) or next day delivery (Lalamove). For the shipping fees and details, you can checkout on quick links of "delivery" option. Moreover, please fill-up remark section if you have any request (e.g "special notes/message for gift) or others.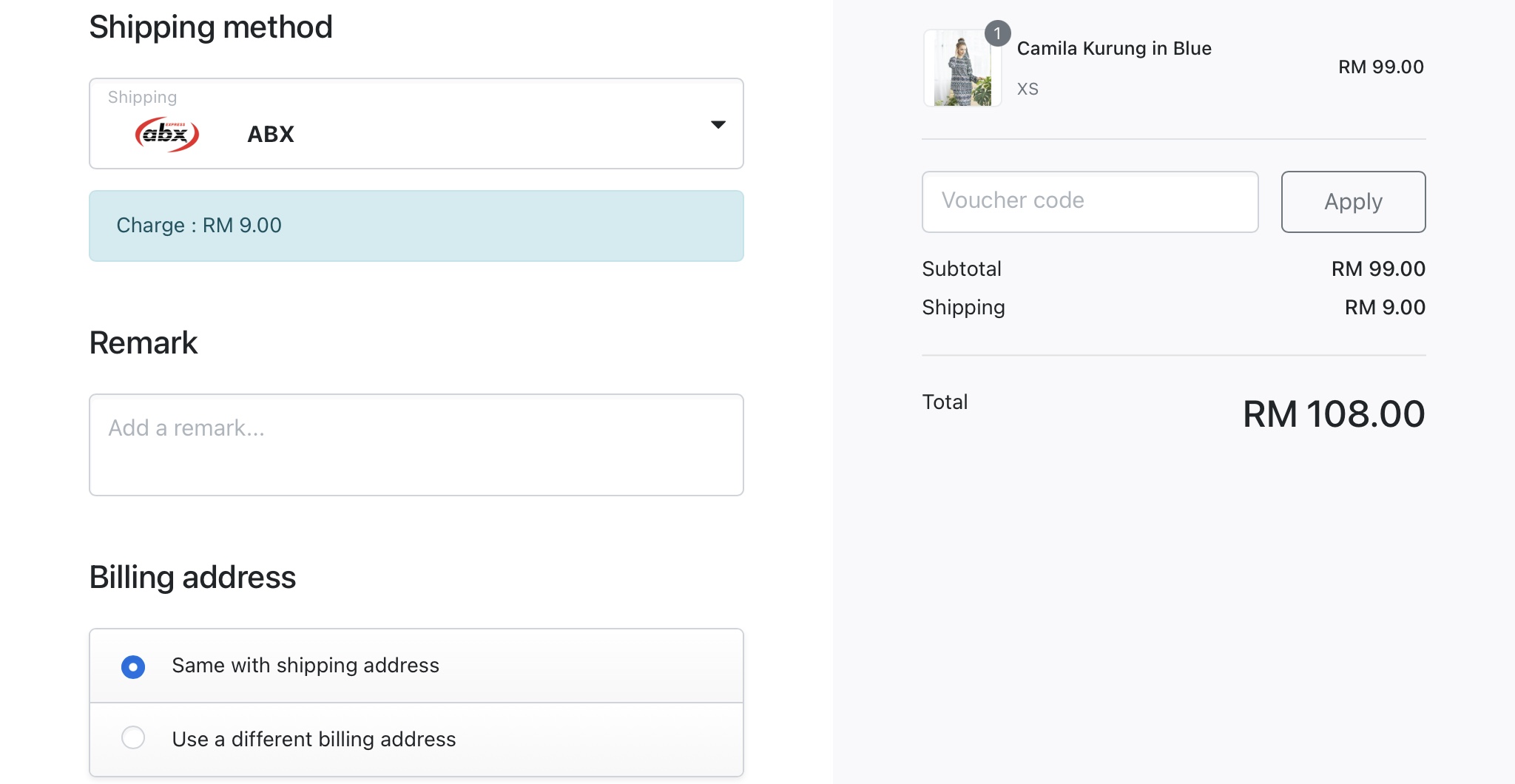 Select your preferred payment method, refer to Payment Section (Click here)